PROPYLÄEN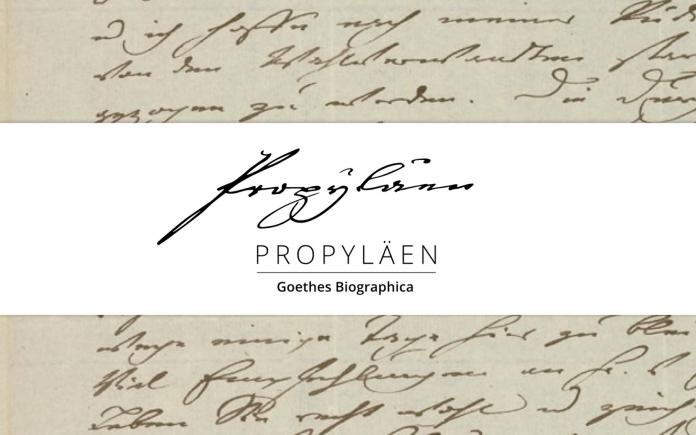 The PROPYLÄEN project offers access to Goethes Biographica. His diaries, correspondences and evidences of meetings and conversations will be presented digitally for the first time beside the traditional printed editions on an integrated web site. The project has two objectives:
First, the continuation and completion of the historical-critical editions of Goethe's diaries (GT) and letters (GB), the registry edition of letters to Goethe (Regestausgabe RA) and the edition of Goethe's meetings and conversations (Begegnungen und Gespräche, BG) compiled on the Goethe and Schiller Archive Weimar.
Second, the buildup of a digital research platform that will present all edited texts, commentaries and indices together and intertwined without access restrictions. In addition to the contents of the printed editions, it will contain the facsimiles of all preserved manuscripts of Goethe Biographica and full transcriptions of letters to Goethe for the first time. The users get the opportunity for sophisticated search queries on the presented sources along with their commentaries and to structure the results according to their needs. The web platform's information architecture is planned for an easy integration of additional autobiographical texts of Goethe, other digital resources and reference works.
Website
Partners
Frankfurter Goethe-Haus
Freies Deutsches Hochstift
Dr. Bernhard Fischer (KSW) (Project Director)
Project Team
Prof. Dr. Ernst Osterkamp (ADW) (Project Director)
Prof. Dr. Klaus Manger (SAW) (Project Director)
Dr. Bernhard Fischer (KSW) (Project Director)
Visit their website for more details
Funders
Academy of Sciences and Literature | Mainz (ADW)
Weimar Classics Foundation (Klassik Stiftung Weimar (KSW)
Saxon Academy of Sciences in Leipzig