DASI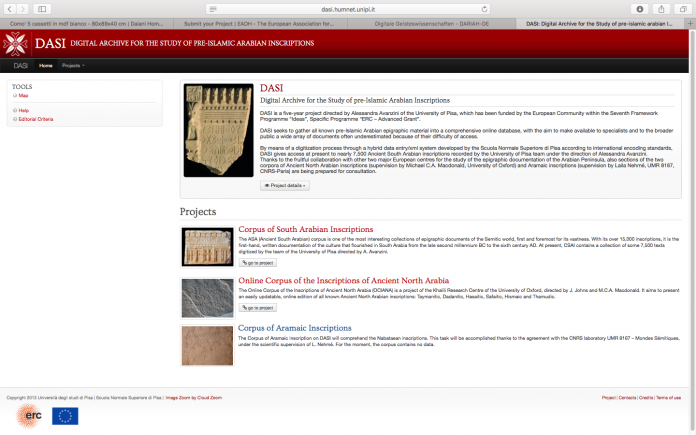 DASI – Digital Archive for the study of pre-Islamic Arabian inscriptions is an ERC project (2011-2016), led by Prof. Avanzini of the University of Pisa, that aims at getting the whole corpus of pre-Islamic Arabian inscriptions inventoried and digitized, to enhance historic and cultural knowledge of Ancient Arabia and strengthen the linguistic study of texts.
About 9,000 Ancient South Arabian, Ancient North Arabian (University of Oxford) and Aramaic inscriptions (UMR 8167, CNRS-Paris) have been digitized through a hybrid data base/xml system, developed by the Scuola Normale Superiore di Pisa, consisting of three main components: a relational database, a data entry and a front end.
The database stores not only metadata, but also text encoded in XML format according to the EpiDoc standard, being the data entry provided with an editing module specifically developed to encode pre-Islamic Arabian inscriptions.
The front end [http://dasi.humnet.unipi.it] gives free access to nearly 7,700 inscriptions. Users can browse content by different Indexes (Corpora, Collections, Epigraphs, Objects and Sites) and filters on metadata. Moreover, thanks to the xml mark up of the textual features, users can perform complex searches on texts through the Textual search and the Lists of words by alphabetical order (both for lexicon and onomastics).
DASI data are also available for harvesting. An OAI-PMH repository allows service providers to harvest DASI records, which have been mapped to several standards and data models: DC, EDM and EpiDoc.
Digital lexica of the South Arabian languages are presently under construction.
Website
Partners
University of Pisa (Italy)
Scuola Normale Superiore di Pisa (Italy)
Project Team
Prof. Alessandra Avanzini (principal investigator)
Alessia Prioletta
Khaldon Noman
Costanza Odierna
Giulia Buono
Clara Mancarella
Cristina Pappalardo
Fabio Betti
Alexia Pavan
Cleto Carbonara
Carlotta Rizzo
Prof. Amos Bertolacci
Irene Rossi
Annamaria De Santis
Alessandra Lombardi
Chiara Condoluci
Umberto Parrini
Daniele Marotta
Gianfranco Di Tota
Matteo Gallo
Enrico Caruso
Funders
European Community. Seventh Framework Programme "Ideas". Specific Programme "ERC – Advanced Grant"