Controversia et Confessio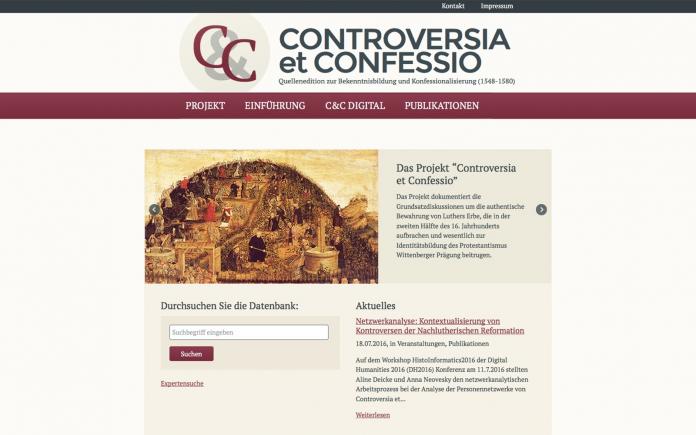 The research and editing project Controversia et Confessio documents the theological disputes that broke out after the promulgation of the Augsburg Interim from 1548 and its conceptual alternative, the Leipzig Interim.
Contrary to the print version the online database offers a complete bibliographical documentation of the project. This includes more than 2000 records with full title, information on authorship, printing locations and printer, years of publication and current library locations, scans of the title page and frequently also summaries of the content.
Website
Partners
Academy of Sciences and Literature | Mainz
Leibniz Institute of European History (IEG), Mainz
Johannes Gutenberg University Mainz (JGU)
Herzog August Library Wolfenbüttel
Research Post for Personal Writings, Marburg; Academy of Sciences and Literature | Mainz (Forschungsstelle für Personalschriften)
German Text Archive (DTA); Berlin-Brandenburg Academy of Sciences and Humanities, Berlin (Deutsches Textarchiv)
Project The German Academy of the 17th century: Fruchtbringende Gesellschaft; Saxon Academy of Sciences in Leipzig (Die deutsche Akademie des 17. Jahrhunderts: Fruchtbringende Gesellschaft)
Project "Deutsche Biographie" (Historical Commission at the Bavarian Academy of Sciences and Humanities; Bavarian State Library)
Project Team
Prof. Dr. Irene Dingel (Project director)
Dipl. Theol. Hans-Otto Schneider
Dr. Jan Martin Lies
Dr. Kęstutis Daugirdas
Funders
Academy of Sciences and Literature | Mainz