DigiPal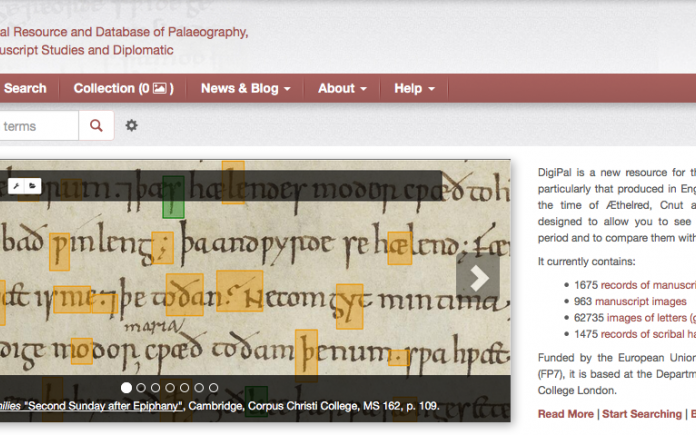 The Digital Resource and Database for Palaeography, Manuscript Studies and Diplomatic (DigiPal) aims to bring new methods in Digital Humanities to the study of medieval handwriting in its diplomatic and manuscript context by combining digital catalogues, descriptions of handwriting, and images of documents and their constituent letter-forms.
The project aims to bring digital technology to bear on scholarly discussion in new and innovative ways. It combines digital photographs of medieval handwriting with detailed descriptions and characterisations of the writing, as well as the text in which it is found, and the content and structure of the manuscript or document as a whole. It incorporate differents ways of exploring and manipulating the information, such as annotated images, as well as more conventional text-based browse and search. It therefore allows scholars to apply new developments in palaeographical method which have been discussed in theory but which have proven difficult or impossible to implement in practice.
To achieve these goals, the project comprises three main parts:
The generalised web framework for the delivery of palaeographical content online.
The database of content specific to English Vernacular minuscule of the eleventh century.
A series of print publications which put this content into practice for our understanding of English Vernacular minuscule in particular and palaeographical method in general.
Website
Partners
Project Team
Peter A. Stokes
Stewart J. Brookes
Geoffroy Noël
Giancarlo Buomprisco
Matilda Watson
Debora Marques de Matos
Beatriz Caballero
Paul Caton
Stephan Hügel
Neil Jakeman
José Miguel Vieira
Funders
European Union Seventh Framework Programme