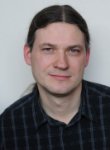 Øyvind Eide is a deputy professor in Digital Humanities (Historisch-Kulturwissenschaftliche Informationsverarbeitung) at the University of Cologne. He holds a PhD in Digital Humanities from King's College London (2012) which was funded by a grant from the The Research Council of Norway. He was been an employee in various positions at The University of Oslo from 1995 to 2013, most recently as a Senior Analyst at The Unit for Digital Documentation. From 2013 to 2015 he was s a Lecturer and research associate with the Chair of Digital Humanities at The University of Passau.
He was a board member of Norsk Ordbok 2014 (Norwegian Dictionary 2014) from 2002 to 2015 and a member of the Scholarly Advisory Board of Edvard Munch's Writings from 2007 to 2015. He was the chair of the Advisory Board for the 2014 project Standards for Networking Ancient Prosopographies: Data and Relations in Greco-Roman Names (SNAP:DRGN). In addition to EADH he serves on committees of a number of scholarly organisations including ADHO, CIDOC, TEI, and the GeoHumanities SIG.
His research interests are focused on the modelling of cultural heritage information, especially as a tool for critical engagement with the relationships between texts and maps as media of communication. He is currently engaged in investigating the limitation of texts and maps as means of conveying geographical understanding, using conceptual modelling of texts as his main method. He is also engaged in interdisciplinary theoretical work on modelling as media transformation activity based on a semiotic understanding and is the PI for the project "Modelling Between Digital and Humanities: Thinking in Practice".
He is blogging at: http://modmebo.hypotheses.org