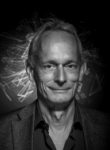 mail [at] jcmeister.de
Jan Christoph Meister is a Professor of Modern German Literature with specialisations in Theory of Literature, Methodology of Textual Analysis and Literary Computing, in the Department of Language, Literature and Media at the University of Hamburg. He currently serves as Chair of the Executive Committee of the EADH, as Chair of the DHd (Digital Humanities in the German speaking regions) and as Director of the ICN (Interdisciplinerary Center for Narratology) at Hamburg University.
Among his publications in Literary Computing are the book Computing Action. A Narratological Approach (Berlin, New York 2003) and a number of articles on computer aided modeling of time and theme structures in narratives.
For further details, see his website.