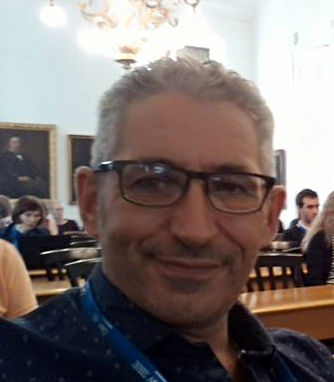 Fabio Ciotti is tenured Assistant Professor at the University of Roma Tor Vergata, where he teaches Digital Literary Studies and Theory of Literature. He is President of the Associazione per l'Informatica Umanistica e la Cultura Digitale (AIUCD, the Italian Digital Humanities Association), member of the EADH (European Association of Digital Humanities) Executive Board and of the ADHO Steering Committee. He has served in the TEI Consortium Technical Council. He is also co-head of the European ERIC DARIAH-EU VCC-4, and member of DARIAH-IT.
His scientific and research work covers various aspects and themes of Digital Humanities and Literary Studies, both from the theoretical and the practical point of view:  the applications of computational methods to the analysis of narrative texts; digital text encoding and representation; applications of XML and TEI technologies to literary computing; modeling and creation of digital libraries; applications of new media and computer mediated communication to Humanities research and teaching. Recently his research interests concern the application of Semantic Web/Linked data principles and technologies to humanities digital libraries and textual corpora. He is interested in particular in ontologies for the analysis of literary texts and for the semantics of markup languages.
Fabio Ciotti has been organizer or member of the program committees of various national and international conferences (TEI Conference and Members Meeting 2013 and 2014; AIUCD conferences, IRCDL; CLIC). He has been involved in several digital humanities projects.  Between the most remarkable: Biblioteca Italiana (Italian literary tradition); DigilibLT (Late Latin tradition); Geolat project - aimed to build an ontology to annotate geographical knowledge in Ancient Classical texts; Memorata Poesis (Italian Ministry of University funded project -PRIN 2010/11) for the thematic annotation of Latin and early Italian texts. He is Scientist-in-charge on behalf of Sapienza University in the DIXIT Marie Curie EU funded project.